Restaurant Management System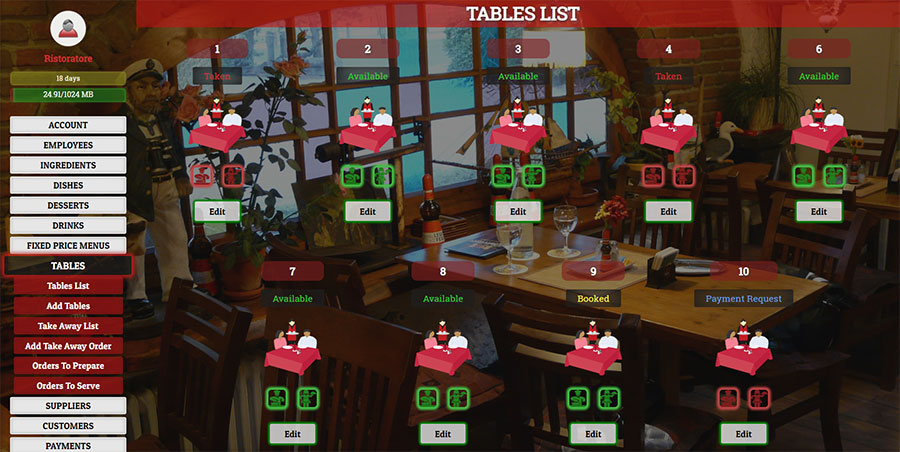 Restaurant Manager Pro is a cloud based software application to manage restaurants, pizzerias and bars.
Our Restaurant Management System is the only one in the market that implements a 3D Tables interface!
Make a free account in a few seconds and check it out!
You can try Restaurant Manager Pro for free for 1 month.
Fill the form below and you will be given credentials for an account via email to start using our software.
No other Restaurant Management System can improve your staff efficency and enhance your customers satisfaction better!
With our cloud software application you can handle any task from everywhere, no hardware is required, no initial fee, and you can connect using any device you want, from your mobile phone to your desktop PC, your tablet, or any other device that can browse the internet!
All what you have to pay is a monthly subscription, that you can renew whenever you want, even month by month paying with your Paypal account, and the 1st month is FREE so that you can test the software first!
Your feedback matters! If you need a new feature that could be useful for every restaurant owner, just contact us and we will implement it as fast as we can in our pos restaurant software!
If you are looking for a Restaurant POS System, look no further!
Cheap


Restaurant Manager Pro
has No Setup Fees!

No hardware to buy! You can use any smartphone, tablet, notebook or your desktop computer!

Just 34.95 U$ per month for the best restaurant
restaurant management system
you can get!

5% discount if you extend 3 months, 7% if you pay 6 months or 10% if you extend your subscription for 1 year!

Try 1 month for free! If you don't like our
POS restaurant software
there are no contracts involved!
Employees Management


Unlimited
employees management
, you can create as many accounts as you want, they are completely free

Different tags to handle several job types

Different permissions for every employee
Ingredients Management


Add, remove and
manage ingredients

Warning list to check if an ingredient storage is below a certain amount

Flag all types of allergens

Set cost per storage unit

Set price as addition when requested directly to the table

Set as available/unavailable
Dishes Management


Add, remove and
manage dishes
, desserts, drinks and fixed price menus

Add ingredients to each dish type with specific quantity, this will help you to check the recipe and automate ingredients amounts remaining

Create different categories for every dish type and set order priority

Flag vegan, vegetarian, celiac and frozen food

Real time
dish cost calculation
based on ingredients added and labour cost

Allergens list based on ingredients added

Set as available/unavailable
Tables Management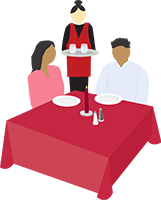 Manage tables
and
take away orders

Table status (Available, Taken, Booked, Payment request)

"To Prepare" and "To Serve" icons to check whether there are any dishes to prepare or serve to that table/take away

List of allergens on every dish

Dish timer to check how much time passed since it was ordered

Cover charge and discount

Connect table to a customer

Table stay timer

Customizable receipt printing
with logos and QR code
Kitchen/Waitress Management


Kitchen staff and waitress can check and flag orders as "Prepared" or "Served"

Customizable prints for "To Prepare" and "To Serve" orders

Orders printable individually or in bulk
Suppliers/Customers Management

Handle suppliers and customers that can be connected to a table

Create, remove and manage suppliers orders to increase ingredients quantity
Prints


Print Ingredients Inventory

Customizable menus with logos and icons

Print receipts with logos

Print orders
Statistics


Several types of
statistics
based on date range

Bars graphs and over time statistics with canvas charts
Multilanguage


Multilanguage is implemented in our
restaurant management system
to cover
restaurants
on main countries! At this time English, Spanish and Italian are available, but we will add more soon
3D Tables Management


Restaurant Manager Pro
is the only
Restaurant POS System
that includes a
3D tables management
interface. You can create your own restaurant in 3D and monitor tables to check their status or if there is something that needs to be prepared or served
Do you want to be a Restaurant Manager Pro reseller?
Take
20% LIFETIME commission
on every payment your customers make, even if you stop working you will still receive your cut from customers brought by you!
No investments or hardware required, just contact restaurants around you (or even all around the world) and offer them our restaurant management software!